Christmas Eve at my place.  I made salmon, mashed potatoes, spinach salad, carrots, and broccoli with cheese.  My sister remarked "that's not Christmas"  No, but I had to stick with narrow foods that would fit in my toaster oven. 

Prep:
Felt the need to decorate for the occasion and spent a few evenings making (poor man paper) ornaments.  
Baby Christmas Tree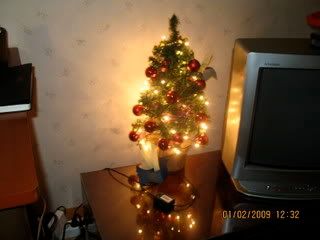 Got the bright idea for a fireplace at the last minute (as inspired by Tabbie)  

Good shot of the decorations (and people too, I guess ;) ) 
(from left: Tabatha, Chrissey, Jenny B, Julia, Jenny Y, Adina) 
There were ten people total: 9 were other English instructors from our International church and 1 was a cool friend of one of one of the church girls.  9 girls, one amazing guy, and a visit from one Mr. Santa Clause brought us all full on full-sized presents.  Santa brought me a copy of O. Henry short stories and a Corningware casserole dish (bearing a large "MADE IN AMERICA" logo) 
(clockwise from left: Heather, Chrissey, Andrew, Adina, Jenny B, Me, Julia, Jenny Y, Joanna) 
We also did a stocking stuffer activity where everyone brought ten small gifts and put them in everyone else's stocking so that at the end of the evening, everyone had ten different small gifts in their stocking.   
Dessert was cake (Duncan Heins with frosting!) and cookies.
After opening stockings/presents, everyone left 5:30am on the 25th, at which time I snatched a few hours of sleep before getting up and cooking again for our annual Moonkkang Christmas dinner at the lovely Hof n Joy.  It was actually a super affair, with delicious turkey roasted by Michelle, and a "Bad Santa" gift exchange emceed by Jammie and Lynn.  Everyone brought a gift and had their name put in a hat.  One at a time, a name was pulled and the person would go up to the stage to choose and unwrap a gift.  The next person had the choice of either choosing another wrapped gift, or stealing a gift from the person that came before them, and so on.  It worked in your favor to be called toward the end, as you had a better selection of gifts to choose from, although a gift could only be stolen three times before it found its permanent home.
Brick, christmas tree, great friends, and a cozy atmosphere.  Not bad for being away from home.  Actually, I would consider it almost better than home because it was an unexpected departure from the same old holiday routine.  Being far away from family and people I've known and loved for years has made me that much more thankful for the new friends and traditions this year.  
I made my Christmas cards because I couldn't find any that said what I wanted to say.  
"May peace prevail on earth" in seven languages...  and as many more as we can learn and tell. 
May the peace of Christmas stay with you all year long.